Une prépa intéressante, thaïlandaise ! L'ADN sportif de notre marque réapparaît un peu...
https://www.returnofthecaferacers.com/harley-davidson-cafe-racer/fatboy-design-48-sportster/
Slayed Sporty: FatBoy Design x Slayer House H-D Forty Eight
It's not often we see crossovers between the world of 4 and 2 wheeled vehicles. When it has happened in the past the results have been less than desirable. But this Lamborghini-inspired Harley Davidson from Thailand has managed to successfully buck the trend.
Built to display at the
2022 Bangkok Hot Rod Custom Show
this heavily modified Sportster Forty-Eight
Harley Davidson cafe racer
was designed by Chakkaphan Rungsukcharoen aka Mark of FatBoy Design. Inspired by his father's Lamborghini Murcielago SV Mark managed to execute the build in an impressive 60-day timeframe with a little help from his friends.
Mark, who was born and raised in Thailand, is well-versed in the world of custom automotive. He's been building custom motorcycles since 2008 and along with running his FatBoy Design workshop, he is the Bangkok dealer of Mooneyes Equipment, providing the brand's apparel and aftermarket parts range to the local market. As a result, he's very well-connected so when the time comes to put together a project dream team there's no shortage of eager contributors.
For this particular project, Mark needed a workshop that specialised in carbon fibre. In Thailand, one of the best workshops for anything that's motorcycle and carbon fibre related is Nattapat Janyapanich's
Slayer House
.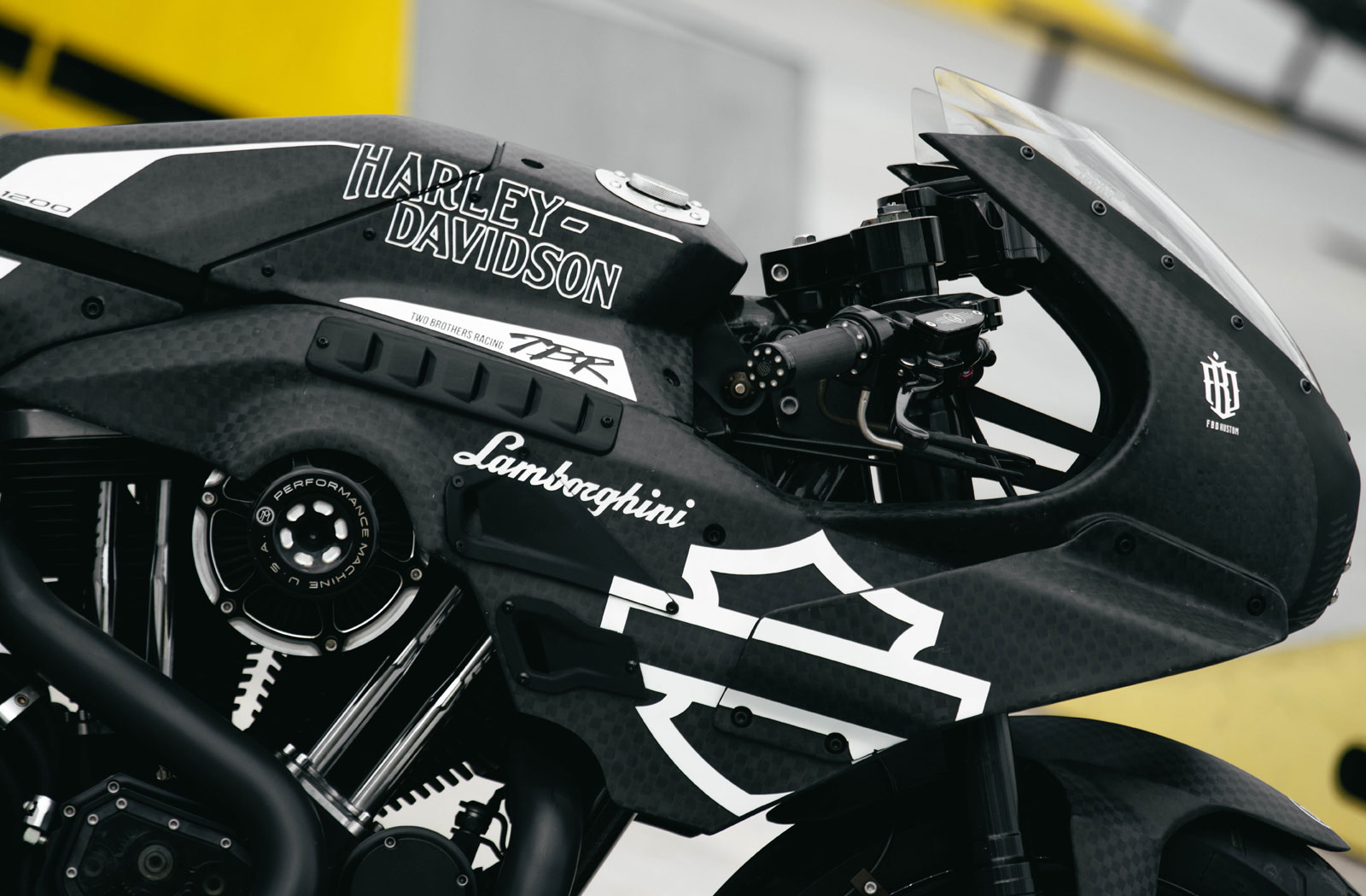 "I wanted to make a Harley that would stand out from all the others," says Mark "I got to know Slayer House because of their carbon fibre work and knew they could do the job."
The collaboration began with Mark and Nattapat sketching a few ideas out on paper. Once happy with the direction Nattapat performed a 3D scan of the entire motorcycle so he could start modelling each individual component.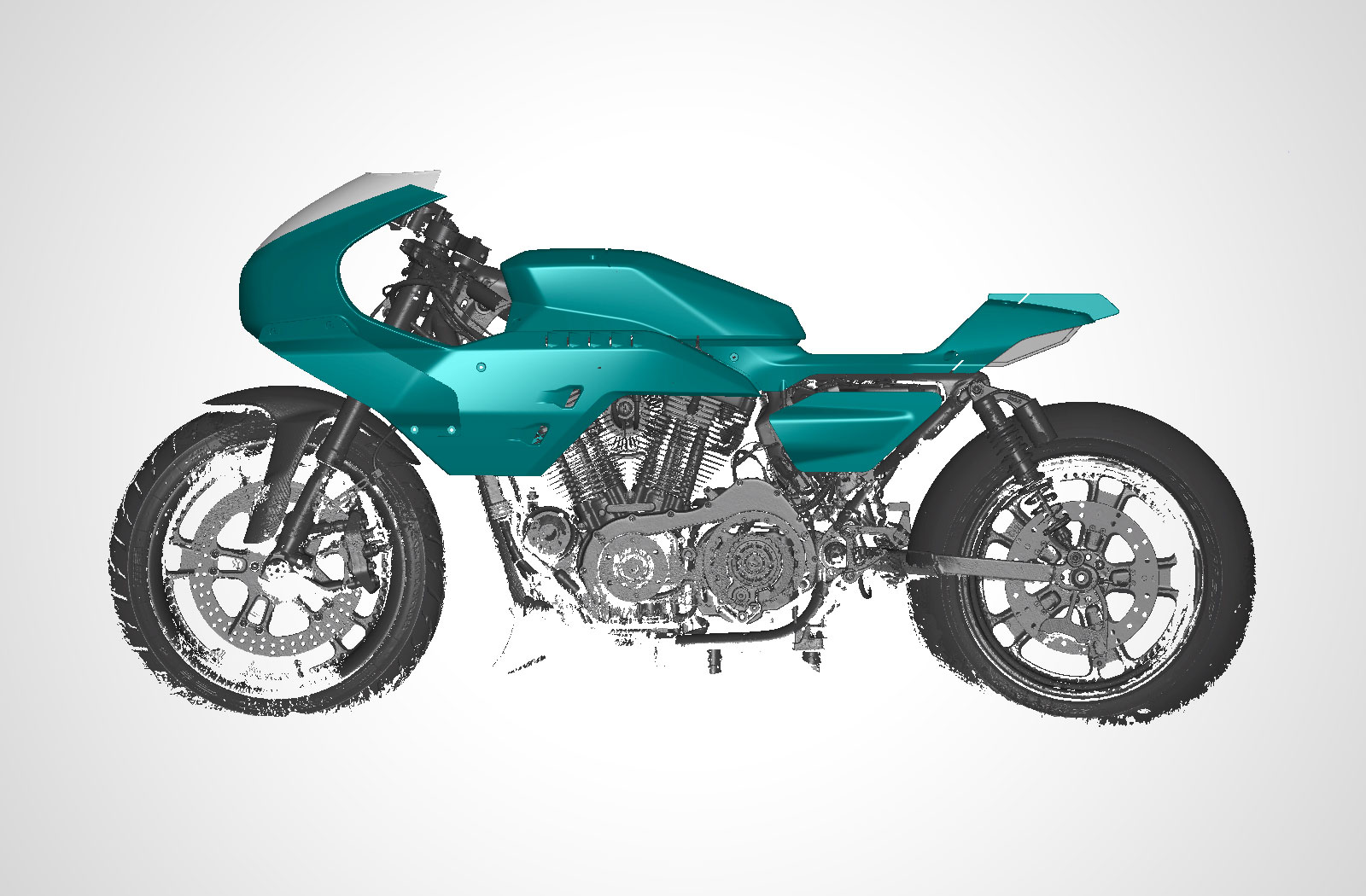 The process of fabricating the bodywork began by 3D printing each part to make the moulds. These were then used to form the bodywork using a dry carbon fibre process that involves laying impregnated carbon into the mould and then vacuum bagging it. This process was used for every bit of carbon you see on the bike including the large front fairing, 2 piece fuel tank cover which sits over a steel fuel cell, and the angular tail unit.
To finish things off Slayer House added 3D-printed gills and air inlets to the main fairing and a finned cover to the underside of the carbon tail unit. To give it a race-bred appearance Mark added white decals sporting both brand's logos along with bold Harley Davidson and Lamborghini livery.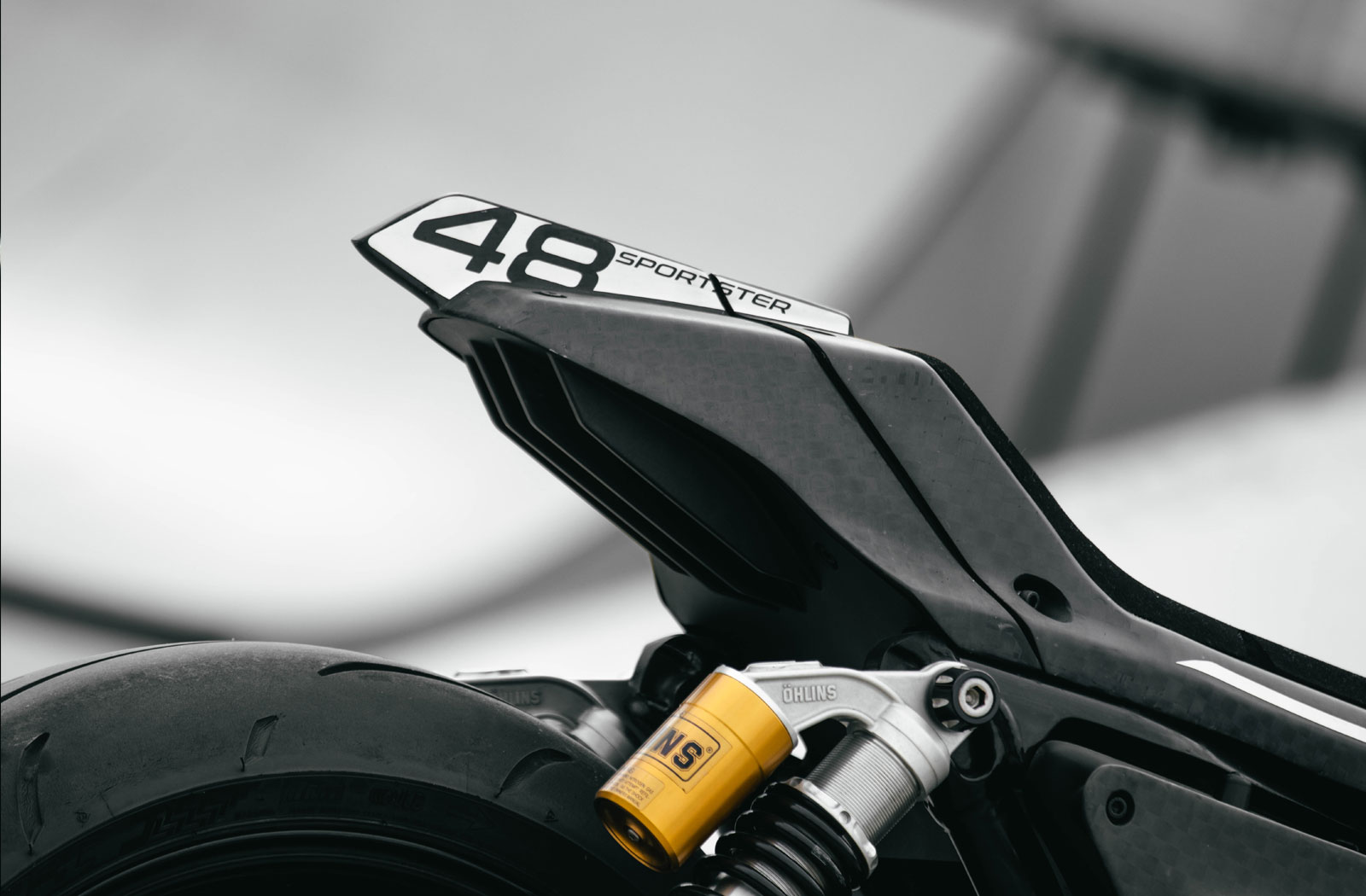 If you were to compare the lines of Mark's Sportster Forty-Eight with a stock bike it's clear a lot more has been done aside from bolting on the new bodywork. Sportster frames are hunched in the rear to create the bike's orthodox cruiser stance. This of course wouldn't do for Mark's cafe racer inspired design. In order to make it work without any structural modification, aside from the removal of the rear guard supports, Mark has revised the bike's suspension setup.
Lifting the Sportster's rear end was achieved by simply installing taller piggyback shocks by Ohlins, but things got a little more complicated up front. Replacing the standard forks is a set of Showa upside-down forks that have been modified to suit. The forks are shortened to level out the bike's bone line and have been mounted using custom-made FatBoy CNC triple trees.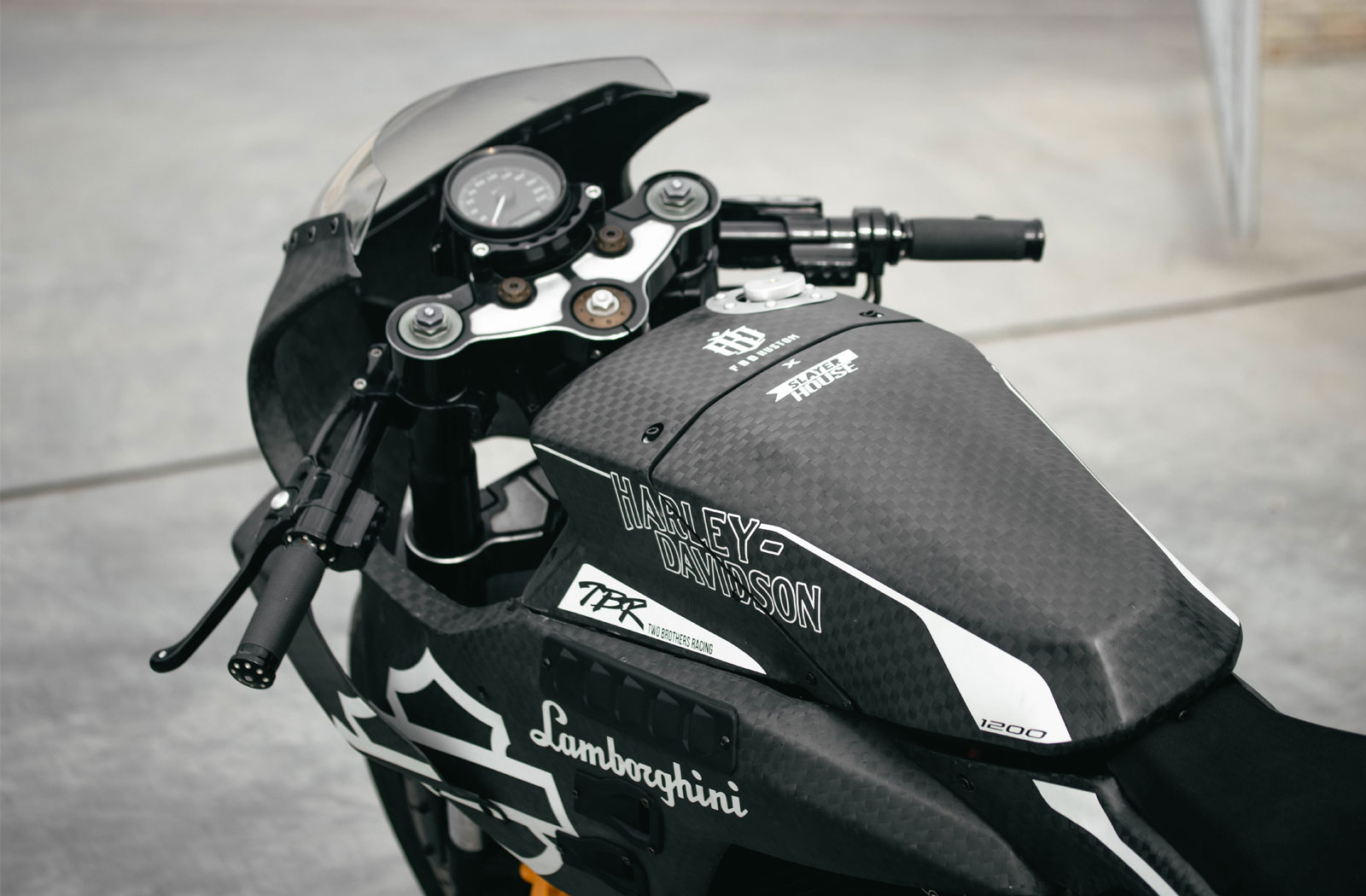 The bike's revised stance necessitated revisions to the controls which have been taken care of using bolt-on aftermarket components. Hanging from the fork legs are FatBoy Design clip-on handlebars. The bars wear Performance Machine levers and switch housings and Roland Sands Design Tracker Grips. The cockpit has also been revised using an RSD cafe gauge relocator that better positions the speedometer behind the perspex windscreen. With the rider now hunched over the tank forward foot controls would make the bike unrideable so that job is now managed by FatBoy Design rear set footpegs.
Next Mark turned his attention to the wheels. Rather than the classic look of the Forty Eight's spoked rims, he wanted something more befitting of the bike's modern aesthetic. The solution came again from the RSD catalogue in the form of machined aluminium hoops. Hanging off the wheels are some of the only brightly coloured parts on the sinister-looking Sportster, a set of custom-painted brakes styled to match the callipers of the Lamborghini that inspired the build. For extra stopping power, there's a twin set up on the front and they bite down on cross-drilled Performance Machine brake disks.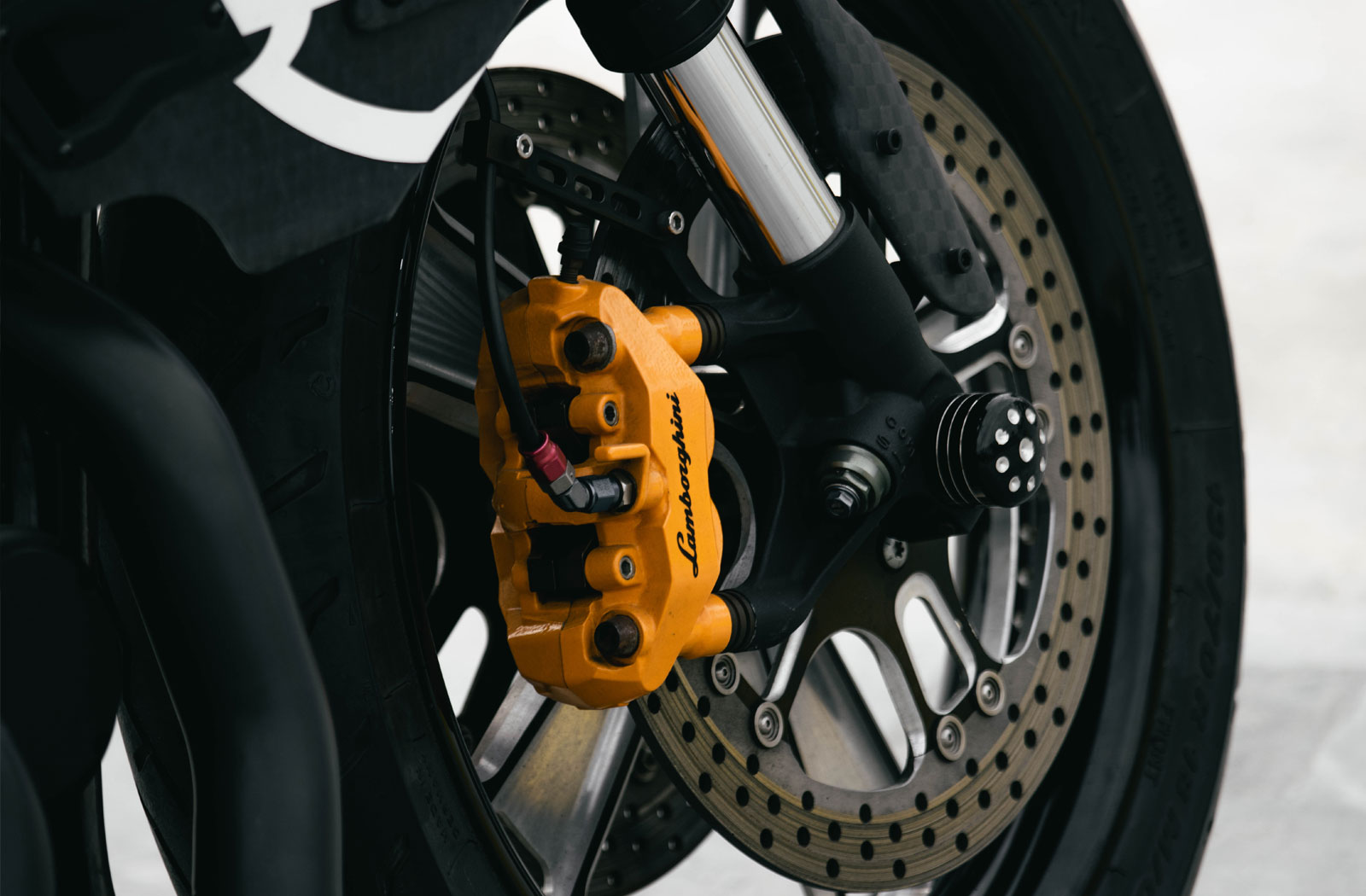 Despite being relatively stock the Forty Eight's 1200cc v-twin looks anything but. This is because it too has been treated to a spattering of aftermarket bling to visually liven things up. The new arrangement includes custom-made FatBoy front and rear sprockets, a chain conversion and an open primary belt from Evolution Industries. Then to give onlookers a glimpse of the engine's internal workings there are Figure Machine 'vision' derby and camshaft covers featuring perspex sight windows.
For now, this Spoty's engine performance upgrades are limited to a Two Brothers Racing 2-into-1 exhaust system, Performance Machine hi-flow filter, Jagg oil cooler and an ECU re-tune. Mark's ultimate goal is to hot the v-twin up and take it to the track, but as it currently stands it already weighs less, and goes and stops harder than Harley's Forty Eight was ever designed to do.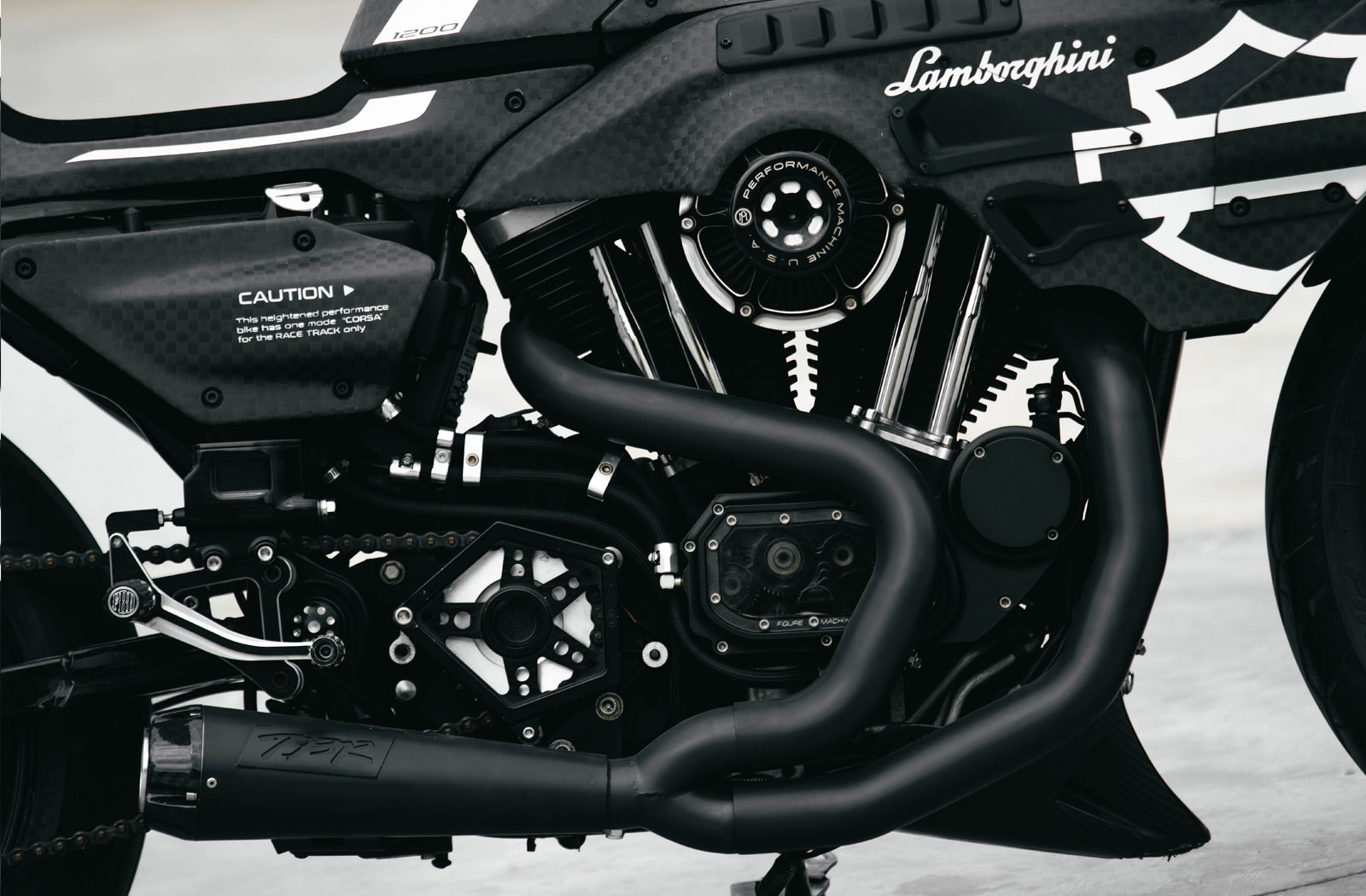 After barely meeting their deadline for the 2022 Bangkok Hot Rod Custom Show Mark unveiled the Sportster to the show's 30,000+ attendees. It wasn't just the general public that was impressed by the result though. FatBoy Design took out the award for the show's Best Cafe Racer. To top it all off, special guest and highly respected builder Shiro Nakajima of Japan's 46 Works nominated the bike as his personal 'Best in Show'.  I think we can all agree it was a well-deserved award.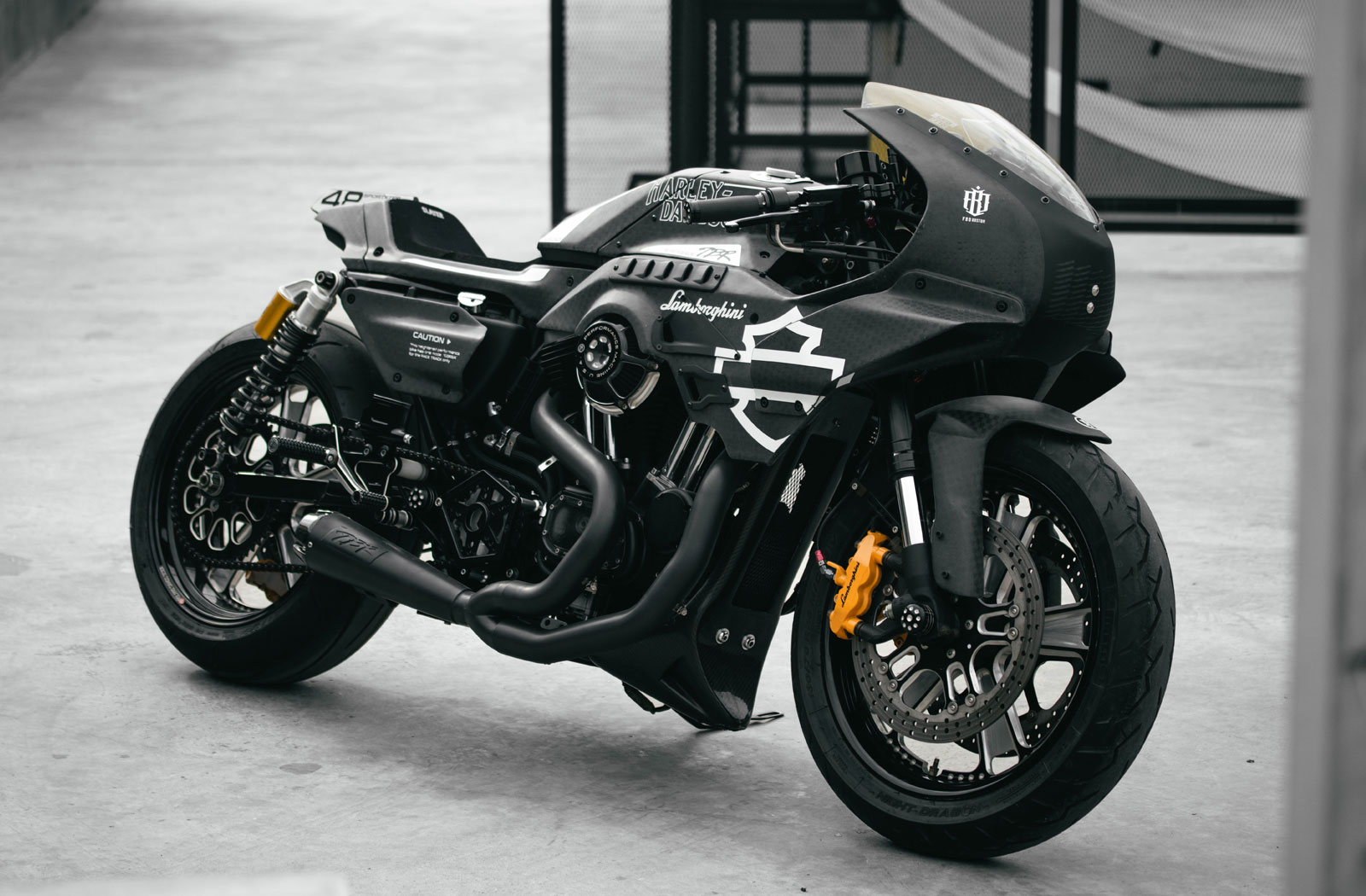 boris-jc

Full Member





Son Age

: 54


Ville et C.P

: Sèvres 92 & Bayonne 64


Harley-Davidson

: XL1200CX '17 & FXDR '19


Date d'inscription :

20/02/2017



Très belle prépa

GRATIAN64

Interested





Son Age

: 55


Ville et C.P

: BIDART


Harley-Davidson

: FLH 1200


Date d'inscription :

11/11/2022



Magnifique café racer
  J'avais remarqué lors de mon voyage en Thaïlande en octobre dernier qu'il y avait une forte tendance au custom là bas. Que ce soit sur les utilitaires (camions, minibus, pickup) que sur les voitures scooters et cyclos. Même au niveau des échappements (lignes tout inox sur les tuk tuk), suspensions surbaissées et gros turbos sur les pickups; ils ne s'inquiètent pas d'un éventuel contrôle technique là bas 

Pierre13

Full Member





Son Age

: 64


Ville et C.P

: Istres 13800


Harley-Davidson

: FXLRS 117 ci 2022


Date d'inscription :

01/07/2022



Sujets similaires
---
Permission de ce forum:
Vous
ne pouvez pas
répondre aux sujets dans ce forum