Bonjour j'aimerais avoir si possible une référence de silent bloc renforce pour road king 1996 
Je compte monte un ape 16 pouces merci

Batoz2b

Full Member





Son Age

: 51


Ville et C.P

: Biguglia 20620


Harley-Davidson

: Road king 1996 carbu


Date d'inscription :

13/02/2013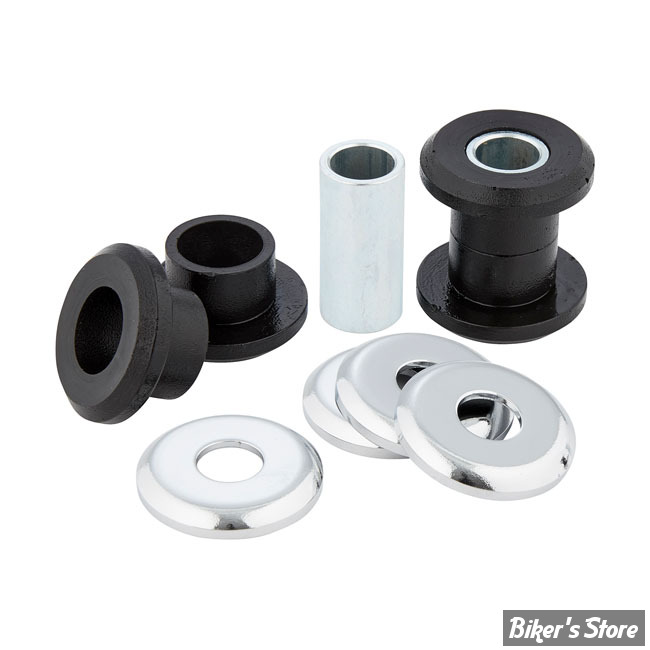 SILENT BLOC DE GUIDON - ARLEN NESS - OEM 56161-83 / A - TOURING 83UP - RONDELLE : CHROME  36,10 € TTC
Pour Touring à partir de 1983, Trike HD à partir de 2009. Le kit
Silent bloc en polyuréthane, procurant un pouvoir anti vibration exceptionnel. Kit complet avec manchons internes et rondelles chromées. 
A must when changing to aftermarket handlebars.
Features:
Polyurethane bushings add a more positive feel to the handlebars while limiting vibration.
Our heavy duty cup washers will not bend or distort like factory units.
Each kit includes polyurethane bushings, inner steel sleeves, and heavy duty Chrome cup washers.
[size=14]ARLEN NESS POLYURETHANE HANDLEBAR DAMPER KIT
Polyurethane limits movement and still provides adequate vibration dampening. A must when installing apehangers or other large bars with a lot of leverage. All come with heavy duty chrome cup washers.
Fits: > 18-20 Softail; 83-20 FLT/Touring; 09-20 Trikes
En italique et souligné, ils expliquent que c'est le mieux pour l'installation de apehangers etc...
[/size]

brissou50

Full Member





Son Age

: 67


Ville et C.P

: Granville 50400


Harley-Davidson

: FLSTF 2002 carbu + 883 XL Hugger 2002


Date d'inscription :

03/11/2009



Merci brissou50 je commande

Batoz2b

Full Member





Son Age

: 51


Ville et C.P

: Biguglia 20620


Harley-Davidson

: Road king 1996 carbu


Date d'inscription :

13/02/2013



La réf Biker store : cc631512

brissou50

Full Member





Son Age

: 67


Ville et C.P

: Granville 50400


Harley-Davidson

: FLSTF 2002 carbu + 883 XL Hugger 2002


Date d'inscription :

03/11/2009



---
Permission de ce forum:
Vous
ne pouvez pas
répondre aux sujets dans ce forum